New York – Tokyo (NYT) is excited to introduce the UNIQLO PAC-MAN CHALLENGE—where a number of our media friends will compete against one another for the title of PAC-MAN champion.  The UNIQLO PAC-MAN CHALLENGE was inspired by the fun UT PAC-MAN T-shirts designs and our endless love for PAC-MAN.  NYT thanks UNIQLO for allowing us to host this unique event and NAMCO Networks, who have graciously supported us in putting together this high level contest.

EVENT RECAP


Friday night was the exciting UNIQLO PAC-MAN CHALLENGE. 14 company teams and selected 28 walk-in challengers showed up to battle for the winner spot on the PAC-MAN arcade machines. The UNIQLO PAC-MAN CHALLENGE was held on the mezzanine level at UNIQLO SOHO, 546 Broadway where it was decked out with PAC-MAN graphics and UNIQLO PAC-MAN merchandise. The store was crowded as usual and people passing through were in for a surprise! The event information and live feed was projected on a large screen shot on the corner of the mezzanine. The event wouldn't be complete without the 4 hour "Special NYT Music Mix" which had select tracks from Namco Classic Collection to YMO. The competitors were an enthusiastic bunch and made the event more fun and exciting. Not to mention that the host, Brian Austin, is one of our favorite all smiles MC that will put anyone in a good mood.
Continue reading full event report here.

DAILY UPDATES
June 11th (Thurs)
Joe La Puma – Associate Editor
Donnie Kwak – Senior Deputy Editor
"Soo Woo!"
Josh Spear – Publisher, Editor In Chief
Aaron Dignan  – Writer
"I hope the other teams are ready to get knocked out."
George Xanthopoulos – General Manager
Erik Schneider – Lifestyle Marketing & DJ Promotion
"Looking forward to chasing Blinky, Pinky, Inky and Clyde soon!".
NY Comic Con Team
Peter Tatara – NYCC Programming Director
Michelle Manning – NYCC Volunteer Coordinator
"We could totally kick ass in Pac-Man when we were 12.  Now?  Well, now
we just gotta squint and think Pac-Man is Marcus Fenix and all those
ghosts are the Horde… and we should do OK."
June 9th (Tues)
Here are some words from the competitors!
Jason Sutton: Vinyl Pulse East Correspondent
"Whether you be Inky, Blinky, Pinky or Clyde…I will crush you!"
John Wong: VPEast Editor
"You Win! Perfect! Oh, I've been playing the wrong game!"
John Politowski
Tyler Carlton
"You don't have a ghost of a chance, Lime Wire is gonna send you pac'ing"
June 4th (Thurs)
Just a reminder, if you want to enter the walk-in challenge on the 19th at UNIQLO Soho, 546 Broadway, you must RSVP!
If you want to help promote the UNIQLO PAC-MAN CHALLENGE, please use these banners and link to this page, http://newyork-tokyo.com/nyt/uniqlo2009_pacman
June 3rd (Wed)
UNIQLO PAC-MAN CHALLENGE site launch and warm ups begin.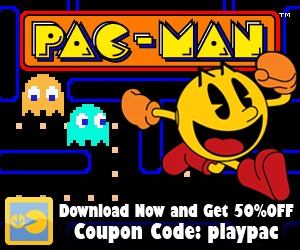 PAC-MAN™ ©1980-2008 NAMCO BANDAI Games Inc.