UNIQLO _ 2009_UT_PACMAN [HOW]
Download PAC-MAN below!
*Note: PAC-MAN game is for PC only*
System Requirements:
OS: Windows 2000/XP/Vista
CPU: 800 Mhz
RAM: 128 MB or 256 MB
Hard Drive: 30 MB
Additional Requirements: Direct X 7.0
Terms of Use/Disclaimer
The participants' information that NYT collects (Company Name, players' name, and contact information) will be forwarded to NAMCO Networks and UNIQLO to for the UNIQLO PAC-MAN CHALLENGE operation,  and will not disclosed/given to any other third parties.
UNIQLO, NAMCO Networks, and NYT employees are excluded from contest participation.
For Contest Rules – click here.  Rule #3 may or may not apply.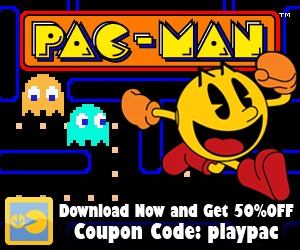 PAC-MAN™ ©1980-2008 NAMCO BANDAI Games Inc.