[A] PHOTO AND FILM PRODUCTION SERVICE
NYT STUDIO offers creative services from an whole shoot/edit production to partial production needs, on location and in studio.
[B] STUDIO RENTAL
We also offers studio rental for local creators.
580 Broadway, New York, NY 10012
studio@newyork-tokyo.com
Studio Micro
Studio Mighty
Maximum cast/crew 5 people in single shoot at Studio Micro.
Larger productions MUST book Studio Mighty.
Included in Studio Rental
Hair & Makeup table and chair, Wardrobe Rack, Hangers, WiFi, AC, Fridge, Microwave
Equipment for Rental
Profoto D2 Air1000WS Mono light
Litepanels Astra 6X Bi-Color LED Panel
Profoto 5' RFi Octa Softbox
Profoto RFi Speedring for Profoto Flash Heads
Profoto Air Remote TTL-C for Canon
Westcott Rapid Box Beauty Dish (24″, for Profoto)
Matthews Hollywood Century C Stand Grip Head Kit, Black – 10.5′
Impact stand
Canon 5D mark III
Canon LP-E6N Lithium-Ion Battery
Canon LC-E6 Battery Charger
Photo Tripods & Support
Video Tripods & Support
Clamp Lamp with 120V CFL Video-Lux Photo Light Bulb (5600K, 45W) for Hair & Make-up
Etension cords
Studio clamp
Apple box
Folding chairs
Steamer
Canon Selphy CP1300 Wireless Compact Photo Printer – White
Delkin Devices USB 3.0 Universal Memory Card Reader
Fujifilm Instax Wide 300
Fujifilm Instax Mini 8
Supplies for Purchase
Savage Widetone Seamless Background Paper (#66 Pure White, 86″ x 36′)
Savage Widetone Seamless Background Paper (#56 Fashion Gray, 86″ x 36′)
Savage Widetone Seamless Background Paper (#20 Black, 86″ x 36')
Memory cards
Photo papers for Canon SELPHY CP1300 Wireless Compact Photo Printer
USB Drive
Fujifilm Instax Wide Film
Fujifilm Instax Mini film
Studio Micro Floor Plan & Images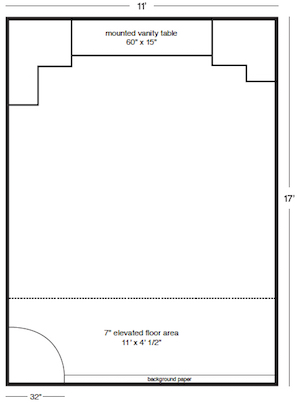 Studio Mighty Image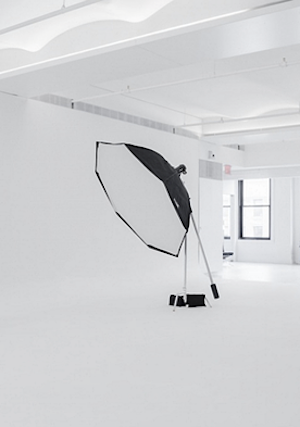 CLIENTS: